The following information is an example of just one organized criminal operation of the Chabad-Lubavitch organization. Agriprocessors Inc., in Postville Iowa, was the largest kosher meatpacking plant in the USA prior to the immigration raid of May 12, 2008, the largest in USA history, where more than 400 workers were arrested.
Agriprocessors is a Chabad-Lubavitch operation that supplied, just before the raid, about 60% of the kosher beef and about 40% of the kosher poultry in the USA. On April 2008, KAJ suspended their kosher certification of the food produced at the plant despite the huge amounts of money that they were offered. The problems with the kashrut at the plant were initially discovered in 2004 by PETA, an organization that is opposed to animal cruelty.
But O-U continued giving their kosher certification, despite the fact that most Orthodox Jews in the USA no longer considered the products as kosher. The question is a question of money. How much money was the O-U offered for giving these criminals a kosher certificate to products that were obviously not kosher? And this of course underlines the main reason Chabad cannot be stopped: MONEY! and corruption. For how many years did the Jews in the USA unknowingly eat non-kosher meat products because of this Chabad operation?
Chabad-Lubavitch involved in the largest immigration raid in history!
---
700 ARRESTS POSSIBLE AT AGRIPROCESSORS; LARGEST IMMIGRATION RAID IN HISTORY; DRUGS AND WEAPONS VIOLATIONS ALSO ALLEGED (May 12, 2008) - Agriprocessors is owned and operated by members of the Chabad organization.
Source: http://failedmessiah.typepad.com/failed_messiahcom/2008/05/700-arrests-pos.html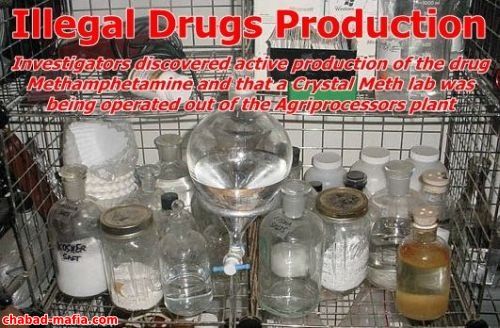 Hundreds arrested in Iowa immigration raid (May 12, 2008). Postville, Iowa - A raid by federal immigration officials at the nation's largest kosher meatpacking plant may have resulted in as many as 700 arrests, immigration officials said Monday. Agents from U.S. Immigration and Customs Enforcement entered the Agriprocessors Inc. complex in northeast Iowa Monday morning to execute a criminal search warrant for evidence relating to aggravated identity theft, fraudulent use of Social Security numbers and other crimes.
About 200 [Chabad] Hasidic Jews arrived in Postville in 1987, when butcher Aaron Rubashkin of Brooklyn's Crown Heights neighborhood reopened a defunct meat-packing plant with his two sons, Sholom and Heshy, just outside the city limits. Business boomed at the plant, reviving the depressed economy while pitting the newcomers against the predominantly Lutheran community.
Source: http://www.usatoday.com/news/nation/2008-05-12-iowa-immigration_N.htm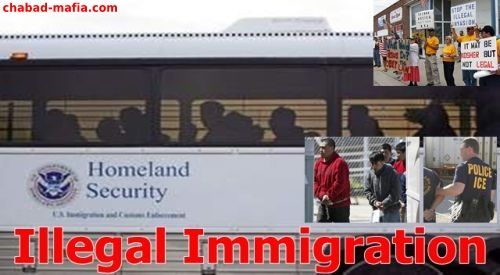 Claims of ID fraud lead to largest raid in state history. Postville, Iowa - The largest workplace raid in Iowa history Monday resulted in the arrest of more than 300 people and reignited the debate over immigration. As two law enforcement helicopters hovered overhead, dozens of federal agents descended on Agriprocessors Inc., the nation's largest kosher slaughterhouse. Monday's raid involved 16 local, state and federal agencies, led by U.S. Immigration and Customs Enforcement (ICE). They executed search warrants related to criminal activity, as well as a civil search warrant for people believed to be in the United States illegally.
A federal search warrant said immigration officials have filed almost 700 complaints about immigration violations and criminal activity by workers at the Postville plant. The activity spans a two-year period, and some workers face multiple allegations. Federal officials allege that as many as three-fourths of the company's workers at the end of last year were using fraudulent Social Security numbers. Last November, the search warrant said, ICE agents interviewed a former Agriprocessors supervisor who said some employees were running a methamphetamine lab in the plant and were bringing weapons to work. Another source alleged worker abuse, officials said in the warrant. In one case, a supervisor covered the eyes of an employee with duct tape and struck him with a meat hook. The worker, who had entered the country illegally from Guatemala, was not seriously injured. He declined to report the incident for fear of losing his job, the warrant said. Another plant worker told federal officials that undocumented workers were paid $5 an hour for their first few months before receiving a pay increase to $6 per hour. The minimum wage in Iowa is $7.25 an hour. The plant, which produces kosher and nonkosher meats, opened in 1987 when butcher Aaron Rubashkin and about 200 [Chabad] Hasidic Jews from New York took over a defunct meatpacking plant. Hasidic Jews follow strict laws. It is a branch of Orthodox Judaism.
Source: DesmoinesRegister.com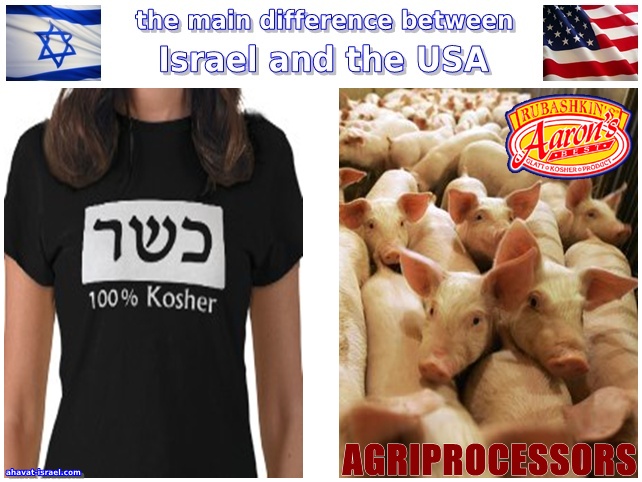 Agriprocessors' Child Labor Investigation Reveals "Egregious Violations Of Virtually Every Aspect Of Iowa's Child Labor Laws" - Attorney General Asked To Prosecute To The "Fullest Extent Of The Law".
DES MOINES, Iowa (AP) - The Iowa Labor Commissioner's Office said Tuesday that it has uncovered dozens of child labor violations at the nation's biggest supplier of kosher meat. Labor officials said their investigation, which spanned several months, uncovered 57 cases of child labor law violations at the Agriprocessors kosher meatpacking plant in Postville, where nearly 400 workers were arrested this spring in the largest immigration enforcement operation in U.S. history.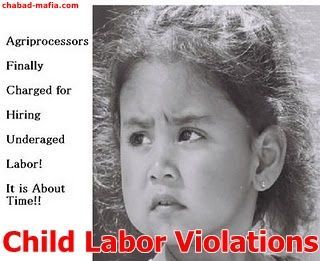 The types of violations included minors working in prohibited occupations, exceeding allowable hours for youth to work, failure to obtain work permits, exposure to hazardous chemicals and working with prohibited tools. "The investigation brings to light egregious violations of virtually every aspect of Iowa's child labor laws," Dave Neil, Iowa Labor Commissioner, said in a statement. "It is my recommendation that the attorney general's office prosecute these violations to the fullest extent of the law."
Source: http://failedmessiah.typepad.com/failed_messiahcom/2008/08/agriprocessors.html
Evidence Shows Agriprocessors Officials Helped Falsify Workers' Documents Postville, Iowa - Federal agents who raided the Agriprocessors meatpacking plant here in May found evidence that the company's human-resources department helped provide false immigration documents to its workers. The agents said they found stacks of fraudulent resident-alien cards in the human-resources department. Most of the cards, also known as green cards, appeared to have been made by the same forger. The plant's owners and top executives have not been charged in the case.
Source: http://failedmessiah.typepad.com/failed_messiahcom/2008/07/evidence-shows.html
Rubashkin Workers Said Forced To Grant Sexual Favors For Promotions, Shift Changes. Chaim Abrahams, an Agriprocessors representative, declined to address the allegation of sexual favors in exchange for job-related requests. "As with any legal matter, Agriprocessors cannot comment about any specific allegation," Abrahams said in a written statement. Slavery, Rubashkin style.
Source: http://failedmessiah.typepad.com/failed_messiahcom/2008/05/rubashkin-wor-1.html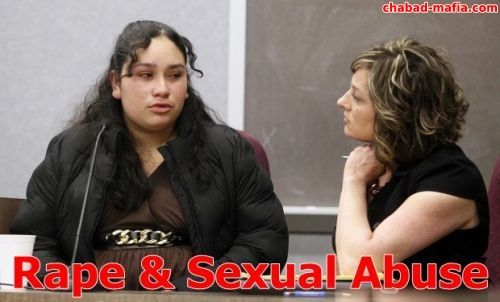 Sexual favors allegedly expected from some Postville workers. Reports that there was an expectation of sexual favors at Agriprocessors Inc. are beginning to emerge from workers at the Postville meat processing plant, and advocates for immigrants in Postville today are trying to collect and validate the stories. Sister Mary McCauley said workers have said that "there was sexual abuse, that there's propositioning."
Federal agents raided Agriprocessors Inc., a kosher meat-processing plant, on Monday in the largest single-site immigration bust in U.S. history. Arrest warrants were issued for 697 people who work at the plant. Federal agents detained 389 in Waterloo, charged 306 with various fraud-related charges, and released 62. Twenty-one remain in custody pending immigration hearings. Since the raid, stories of how employees were mistreated has emerged, including verbal abuse by supervisors. Last November, the federal search warrant released after the raid said, Immigrant and Customs Enforcement agents interviewed a former Agriprocessors supervisor who said some employees were running a methamphetamine lab in the plant and were bringing weapons to work. Another source alleged worker abuse, officials said in the warrant. In one case, a supervisor covered the eyes of an employee with duct tape and struck him with a meat hook.
Source: http://www.desmoinesregister.com/apps/pbcs.dll/article?AID=/20080519/NEWS/80519022/-1/ENT05
CBS News On Agriprocessors Abuse Of Workers
---
More information about the criminal ways of the Chabad movement, and the Agriprocessors story, can be found at FailedMessiah.com - Rubashkin Scandals.
---
An interesting story about Agriprocessors and Rubashkin was published by a Professor of Jewish Studies. The story concludes:
The revulsion that non-Orthodox Jews in the Upper Midwest have for the [Chabad] Hasidim of Postville is visceral and undeniable. Over and over, while talking to non-Orthodox Jews in the Minneapolis-St. Paul area - arguably the Jewish community outside of Postville that has the most at stake in this story - I have heard one constant refrain. "How could this have happened?" they ask rhetorically. "I'll tell you...," and then their voices drop a register: "These [Chabad] Hasidim do not think their workers are human beings."
What these Jews are saying is probably the deepest and darkest secret of the entire story.
This is a tale of [Chabad] Hasidic Jews who are utterly at odds with what most Americans understand as modernity. They learn from their most sacred text, the Tanya (published in 1797 by the founder of Chabad Hasidism, Rabbi Shneur Zalman of Liadi) that "the souls of the nations of the world, the idol worshippers, derive from unclean husks and have no goodness in them whatsoever."
This xenophobic teaching, an intolerant note hiding within the otherwise fetching melody of Chabad Hasidism, is spun differently for different audiences. But it indicates what can happen when business proprietors armed with a chauvinistic mystical theology that denies the humanity of non-Jews face off against the "laws of the land." Such behavior might pass unnoticed in the cloistered brownstone neighborhoods of Crown Heights, but in the open light of the prairies, there will be an inevitable clash of civilizations.
Source: http://caribou.cc.trincoll.edu/depts_csrpl/RINVol11No2/PostvilleRaid.htm
---
Dear Arthur --- and all Jews of whatever color clothing, hats, and yarmulkes, and no yarmulkes (June 1, 2008). The water dripping effect on concrete - first it stains, then an indentation forms - then a hole; and over time, it cracks. Yes - water can crack concrete over time. So, let's add up the Rubashkin "water dripping" effect on our society. 1- No kosher slaughterhouse is permitted to have a non-kosher division under the same roof. 2- A long and vile record of documented and recorded intentional, undue animal abuse. 3- Recruiting and hiring illegals - a crime! 4- Selling chicken, knowingly - bacteria and feces laden. 5- Serious credible allegations of physical abuse of their employees. 6- Selling fake ID and Social Security cards on their premises. 7- Having created a network of people selling fraudulent documentation - permitting illegal entry in to the USA. 8- I tell you this with authority. The KAJ left Rubashkin because there was mass co-mingling of kosher and non-kosher meat - and sick animals - which rendered them dangerous to eat and non-kosher, were sold as kosher. Many continuous allegations from insiders that the shochtim were unreliable - because of the quotas they had to fill - and incompetence. 9- Every Rubashkin truck driver had thousands of spare "glatt kosher" labels on their trucks. WHY?! 10- I happen to know that the Rubashkins are not so closet Meshichisits! WHO CARES? I DO! They are posul eidus at chupas - and by definition - kofer b'ikur! I'm certain that there are some nice Rubashkins. I don't condemn the name - I condemn the vile acts. I condemn their belief system - trying to pass themselves off as a legitimate sect of Judaism. I knew and revered your uncle and his Rebbetzin Necha. I took the rebbetzin shopping for Shabbos on Kingston Av - Minkowicz. I helped her pick out a hat for the Rosh Yeshiva at the hat store on Kingston, Mr. Mike - and bought seforim with her for the Rosh Yeshiva at Drimmers. I sat around their kitchen table as the rebbetzin and my rebbe traded verbal jabs lovingly. I completed a good part of the Shulchan Aruch Harav (the Chaya Adam, the Mishna Berurah and the Ben Ish Chai are derivative works) with your uncle at his residence, on Eastern Parkway and Brooklyn Av., over an almost five year span. I attended many a "fabrengen" at the behest of my father and your uncle. I had "yechidus" with the Rebbe four times, prior to becoming a member of the Chai Club for nine years. (that allowed me another nine private meetings) I learned Tanya as a teenager - as was taught by the tzaddik RSFM ztvk"l (zchuso yagen aleinu) in Yeshivah Torah Vodaath. AND THEN LUBAVITCH COLLAPSED as a Jewish sect. The incubation period was over (Freud), and it became "Moshiach was the Rebbe" psychotic movement ---- and I said NO THANKS - I'M OUTTA HERE! I believe with my whole heart, that dementia, neurosis and delusional behavior overtook the genius and Gaon - Rabbi Menachem Mendel Schneerson - as it did with all the previous charismatic Moshiach psychotics. While the legacy of his chessed lives on - the destruction of his sect as "Torah Jews" is his legacy. He permitted this delusion and mass psychosis to fester and inebriate the mindset of thousands of Jews - creating Jew-style Jews. Yes, Lubavitch has the most soup kitchens for anybody that appears Jewish. No mean feat! Judaism - NO! A cult with many good and kind people - yes! TRUST THEM WITH KASHRUTH - NO!.... And only a minuscule portion of the story has been told! B'yididus, UOJ
Source: http://uojgroup.blogspot.com/2008/06/dear-arthur-and-all-jews-of-whatever.html
---
Agriprocessors Rubashkin NOT Kosher Part 1
Agriprocessors Rubashkin NOT Kosher Part 2
---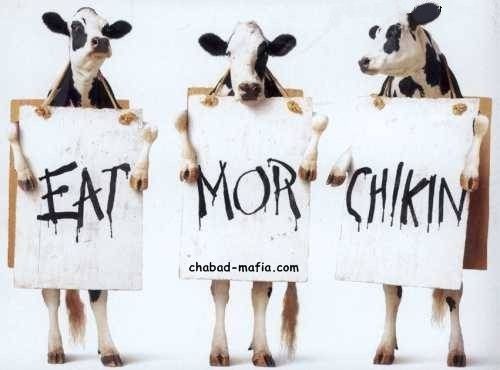 ---
Disclaimer: Please conduct your own investigation about the issues mentioned in this website. This website is only a brief summary of the problems with Chabad. For more information, please talk to your local community Rabbi. Also, if you really care about being Jewish, come live in Israel and study Judaism.
Copyright Notice: According to Jewish Law, it is a Mitzva, a religious obligation, to provide this information to every Jew in the world, in order to protect Jewish children from Chabad, and to save Jewish lives and Jewish souls from being destroyed by Chabad. Therefore, permission is granted to copy and reproduce all of the information found on this website in any form and publication, including any website or blog, and to translate it to any language. The only requirement is that you mention that the information was obtained from this website, and in the case of internet pages, please add a link back to this website.