---
Chabad-Lubavitch is involved in various types of financial fraud
---
Chabad specializes in financial fraud. Chabad Rabbis are experts in manipulating people and stealing money from them. Chabad takes advantage of the various grants and government assistance plans for needy children to obtain large amounts of money, illegally and fraudulently, from all jurisdictions. In the USA alone, Chabad makes hundreds of millions of dollars, maybe even billions of dollars, every year, through its network of schools. Additional money is made in other countries where similar government programs are available. Chabad obtains money from local, state, and federal sources. On top of that, Chabad Rabbis also make several millions of dollars from private donations that end up in their offshore bank accounts.
Additionally, Chabad makes hundreds of millions of dollars, maybe even billions of dollars, every year, around the world, through all kinds of financial fraud, tax evasion, and money laundering. This page mentions a case in Australia where a Chabad Rabbi and his wife defrauded the Australian governmet for about $5 million dollars. After the case was reported by the local media, there was a surge in anti-semitism. That is, the criminal actions of this Chabad Rabbi in Australia caused anti-semitism there. By the way, this criminal Chabad Rabbi received support and assistance from all Chabad Rabbis worldwide, until there was nothing else left to do. Chabad Rabbis help and protect each other every time a Chabad Rabbi is caught commiting a crime.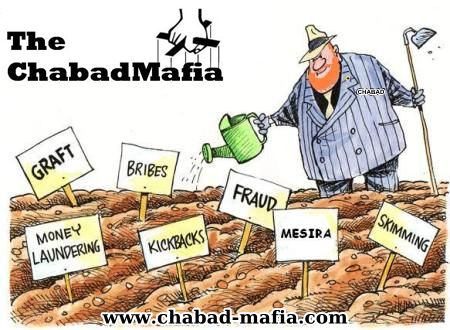 The other case mentioned below is the arrest of the top 5 Chabad Rabbis in Israel, who were arrested because of financial fraud, tax evasion, and money laundering. The arrests followed a year long investigation by Israeli law enforcement. Immediately following these arrests, the 5 arrested Chabad Rabbis were replaced by another 5 Chabad Rabbis who continue with their illegal business activities uninterrupted. Israel is apparently the only country that is not afraid of arresting crooked Chabad Rabbis. It appears that law enforcement in the USA is afraid of arresting criminal Chabad Rabbis, fearing the reaction of the large Jewish community in the USA.
---
Chabad-Lubavitch obtains government grants illegally and fraudulently
---
Probe into 'fake' Hebrew classes in Adelaide (July 17, 2007). FAKE report cards allegedly signed by [Chabad] Rabbi Yossi Engel are at the centre of a major probe into claims an Adelaide school received government money for phantom Hebrew lessons.
Angry parents this week said they were shocked to learn their children - who attend regular Jewish and non-Jewish schools - had been used as dummy enrolments for after-hours Hebrew tuition they didn't know existed. "I never gave permission for my kids to attend classes I'd never even heard of this school," said Di Wittert, whose three sons were on Spirit of David's books without her knowledge. Wittert only discovered the fakes when one of her sons moved to Massada College from a state primary school this year, a transfer that turned up academic records containing the false report card. "The sad thing is our children have been robbed of the chance to have legitimate Hebrew classes. We didn't even know this option was available to us," she said.
A number of false reports containing fictitious remarks and attendance records were lodged with South Australia's Ethnic Schools Board (ESB) over the 2001-04 academic years. On its website, the ESB says one of its roles is "managing and administering government funds to ethnic school authorities and ensuring educational and financial accountability". The AJN has not been able to establish whether Spirit of David received government money from the ESB, or funds from private donors in the Adelaide Jewish community, or both. Two school reports sighted by the AJN, dated 2001 and 2003, both allegedly carry Rabbi Engel's signature as principal. One of these reports also has [Chabad] Rabbi Engel's signature as teacher, while the second was allegedly co-signed by Chana Engel as teacher. [Chabad] Rabbi Engel referred the AJN to his lawyer, Ron Bellman, when asked about his signature on the report cards. Bellman did not answer questions about the signature, and tried to dissuade the AJN from publicising the school probe, claiming it was subject to a din Torah to be adjudicated by the London Beth Din.
Source: http://www.ajn.com.au/news/news.asp?pgID=3728
Chabad Rabbi Caught In Government Embezzlemet Scandal (July 18, 2007). Angry parents this week said they were shocked to learn their children - who attend regular Jewish and non-Jewish schools - had been used as dummy enrolments for after-hours Hebrew tuition they didn't know existed.
Source: http://failedmessiah.typepad.com/failed_messiahcom/2007/07/chabad-rabbi-ca.html
[Chabad] Rabbi Engel to face 17 counts (June 05, 2008). ADELAIDE's [Chabad] Rabbi Yossi Engel has been reported on nine counts of false pretences and eight counts of deception in relation to funding applications made by a South Australian Jewish school to the state's Ethnic Schools Board. In July last year, two school reports sighted by The AJN, dated 2001 and 2003, both allegedly carried [Chabad] Rabbi Engel's signature as teacher. One of the reports was allegedly co-signed by [Chabad] Rebbetzin Chana Engel as teacher. Police told The AJN today that the alleged offences "relate to the filling out of forms and applications submitted to the Ethnic Schools Board in order to receive funding".
Source: http://www.ajn.com.au/news/news.asp?pgID=5625
Australian Chabad Rabbi Yossi Engel apparently will face 17 criminal charges related to defrauding Australia's government. (June 05, 2008)
Source: http://failedmessiah.typepad.com/failed_messiahcom/2008/06/chabad-rabbi-to.html
---
Chabad-Lubavitch engages in fraud, tax evasion, and money laundering
---
Senior Chabad official suspected of evading millions in taxes (November 14, 2007). Man arrested at Ben-Gurion Airport upon returning from fundraising tour in US. Simultaneously, dozens of detectives raid Kfar Chabad, detain several people for questioning. The [Israeli] police's fraud unit on Wednesday morning arrested a senior Chabad member on suspicion of evading millions of Israeli shekels in taxes. The man was arrested at Ben-Gurion Airport as he returned from a fundraising tour in the United States. Simultaneously, dozens of police detectives raided the village of Kfar Chabad, confiscated documents and detained for questioning [Chabad] movement activists suspected of being involved in the fraud affair. The arrest was conducted following a secret investigation held over the past eight months, after the airport intelligence unit received information that an association linked to young Chabad members was being used to cover up tax evasion. The suspect used fictitious bank accounts for money laundering purposes. The police also suspect that the funds raised by the association in the past few years for education, aid and charity activities were transferred to "straw accounts" in Israel and abroad and were withdrawn for private purposes, including payments to the association members. "This investigation included dozens of Chabad officials," a police source said. "In the past, disputes between organization members led to lawsuits, and the material obtained on the organization points to severe tax offenses. The [Chabad] organization will find it very difficult to continue with its activities following these arrests."
Source: http://www.ynetnews.com/articles/0,7340,L-3471240,00.html
Chabad leaders arrested for alleged theft, money-laundering (November 14, 2007). The leader of the "Young Chabad" movement in Israel and four other suspects were arrested by Israeli police yesterday on suspicion of embezzling $60 million from donated monies, tax evasion and money-laundering. The arrests of Yosef Aharonov, his assistant and the others followed a collaborative secret eight-month investigation by the Central District Fraud Squad and the Tax Authority. Donated money never reached its destination, police suspect, and the money-laundering was effected in part by paying salaries to people under the table, and by "paying" money into fictitious bank accounts, Channel 10 reported last night. Businessmen reportedly abused the mechanism by "donating" money to the organization that they'd simply get back by these methods, while taking advantage of the tax break on charitable donations, not to mention the adulation.
"We discovered that money was changing hands left and right, and it seems that the suspects were treating the money as though it belonged to them personally," investigating officer Avi Mantzour told Haaretz yesterday. Following a raid on Kfar Chabad yesterday, the police are expected to summon various powerful figures in Israel for questioning in the affair. Last night Israeli-Russian billionaire Arcadi Gaydamak, who had reportedly donated about a million shekels to the Chabad association, told Channel 10 news that he knows nothing of malfeasance, but police suspect that he is among the business personalities that donated money and got it back by illegal means. Aside from organization director Aharonov, the police also arrested his deputy, the accountant and a signatory. The court yesterday extended Aharonov's detention by eight days. The others will be appearing before the court for remand hearings this morning. Aharonov's legal counsel, attorney Gideon Fisher, called the arrest a "scandalous false arrest designed to terrorize my client". He claimed that the police investigation began following a financial claim that the Young Chabad organization had filed against a former association leader, claiming that the latter had stolen more than NIS 17 million. "Trying to save his skin by turning the tables, the former official chose to make false allegations and try to ruin the good name of dozens of families in Kfar Chabad," Fisher said, adding that the Young Chabad movement strictly adheres to the law. Young Chabad is a nonprofit organization dedicated to spreading the word of Torah and the Chabad-Lubavitch Hasidic messages. It was founded by the Lubavitcher rabbi (and is also known an Lubavitch Youth), to serve as the operational arm of the Chabad movement. It is the most dominant of the ultra-Orthodox movement's arms in Israel, and runs on a budget of about NIS 30 million a year. From that amount, about 20 percent is allocated by the state. For the rest, Chabad relies largely on donations, including from leading business figures in Israel. By the way, that annual figure of NIS 30 million (and NIS 7 million from government) is based on reports by Young Chabad to the Registrar of Associations. But the police and Tax Authority now suspect that Young Chabad's real income was far higher. They suspect that Young Chabad organization really does use that roughly NIS 30 million to promote its causes, including the establishment of day-care centers for the poor. But they suspect that the organization also receives tens of millions more, which it neither reports nor handles transparently. The investigation began after the Registrar of Associations complained about irregularities in Young Chabad's books. The open stage of the investigation began yesterday. Aharonov, the Young Chabad manager, is suspected of theft by a manager, fraud under grave circumstances, falsifying corporate documents, hiding income and abetting tax evasion. Evidence shows that a great deal of money passed from the Young Chabad bank account to both private and fictitious bank accounts linked to Aharonov and his cronies. "Fictitious bank account" means that documents showing transfers refer to accounts that don't actually exist. The fiction went on with donations by major businessmen. "They would donate the money, and receive an income tax break on it. But we can now say that they got it back, though a certain sum would remain in the association's hands," Mantzour said. Police also say that Young Chabad laundered money by paying some workers in cash, in order to help them dodge taxes, too.
Source: http://www.haaretz.com/hasen/spages/924248.html
---
Contest: A $100,000 US Dollar prize will be paid to anyone who can find even one respectable Israeli Rabbi who says that Chabad is Jewish.
You will never find any such Rabbi, but try to find it anyway as an educational exercise if you still think that Chabad is Jewish.
!!! CHABAD IS BAD FOR THE JEWS !!!
!!! JUST SAY NO TO CHABAD !!!
---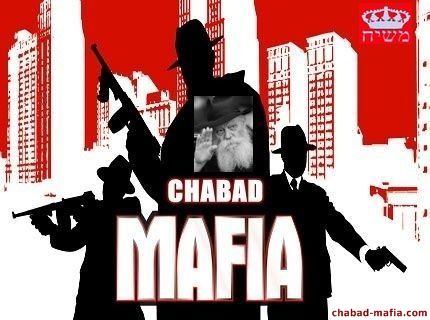 Disclaimer: Please conduct your own investigation about the issues mentioned in this website. This website is only a brief summary of the problems with Chabad. For more information, please talk to your local community Rabbi. Also, if you really care about being Jewish, come live in Israel and study Judaism.
---
Copyright Notice: According to Jewish Law, it is a Mitzva, a religious obligation, to provide this information to every Jew in the world, in order to protect Jewish children from Chabad, and to save Jewish lives and Jewish souls from being destroyed by Chabad. Therefore, permission is granted to copy and reproduce all of the information found on this website in any form and publication, including any website or blog, and to translate it to any language. The only requirement is that you mention that the information was obtained from this website, and in the case of internet pages, please add a link back to this website.
---
Comments, feedback, and additional information about the issues presented in this website can be posted on
our facebook page
.
Is the Chabad ideology Jewish? Join our facebook group to discuss all the problems created by Chabad against the Jewish People.
Find us on Facebook ~ Twitter ~ YouTube ~ Google Plus
---
© Yehudim Neged Chabad (Jews Against Chabad)
---