Fights, Disputes, and Controversies of Chabad-Lubavitch in the World
---
Chabad is known by Jewish communities around the world as a trouble maker. Chabad makes trouble and creates Hillul HaShem (desecration of G-d's name) and Sinat Chinam (senseless hatred), every day, wherever they go. Chabad always wants to take full control of the local Jewish community in every part of the world. They fight the local Jewish community, try to steal their members, their schools, and their synagogues. They try to convince the local government that they are the only true and legal representatives of the local Jewish community, and that they speak for the local Jewish community.
In order to achieve their purposes, Chabad emissaries and followers routinely engage in various acts of violence, crime, and deceit. Sometimes, Chabad makes false accusations against the local Jewish leaders in order to discredit them, having them arrested by the local authorities, or even expelled from the local community. And sometimes Chabad members fight amongst themselves over control of a particular territory or property. Many times, money is at the center of those disputes. The following is a very brief summary of some of the Chabad-Lubavitch fights, disputes, and controversies around the world.
Europe
Czech Republic
In Prague in 2005 tensions developed between Chabad members and Rabbi Karol Sidon. The Alt-Neu (Old-New) Synagogue (Shul) in Prague's ancient Jewish Quarter became the scene of an emotional dispute between members of the Chabad movement and locals backing Karol Sidon, chief rabbi of the Czech Republic. The conflict led to violent brawls and hospitalisations on a number of occasions. Sidon was eventually returned to his post. In 2004 Tomas Jelinek the director of the community council fired Sidon as Rabbi giving the post to young Chabad rabbi Manis Barash. A grassroots campaign from community members led to the deposition of Jelinek as the community director. Jelinek then asked a religious arbiter in Israel to rule on the case who ruled in favor of Barash. Sidon's supporters argued that the case was void since Jelinek had lied to the Judge telling him that the community board had been behind his actions in firing Sidon and appointing Barash. However on 21 November 2005 he was reelected as the chief Rabbi of the city following the protracted dispute with Chabad.
Community head Jacub Roth told the press: "this is part of the local Chabad's striving to take over the community's religious life. We have seen an ugly foray of Chabad in their attempt to take over the Old-New Shul."
Lithuania
In May 2004, the Lithuanian Jewish community temporarily closed the Vilnius synagogue following a disorderly dispute in the synagogue between members of the Orthodox and the Chabad Lubavich Jewish groups. The community closed the synagogue again in August 2004, following another disturbance. The government charged the leader of the Chabad Lubavich community with assault and trespassing in the second occurrence, but subsequently dropped the charges. The synagogue remained closed pending resolution of the community's internal disputes.
Sholom Ber Krinsky
Rabbi Sholom Ber Krinsky (nephew of Rabbi Yehuda Krinsky) the Chabad emissary to Vilnius has been embroiled in a number of scandals. His soup kitchen was closed down because it served contaminated food. A scandal erupted when charges were made that he had stolen money from donors. Creditors took over the first floor of his Chabad Center to cover unpaid debts, and he remains indebted to his creditors. He collected money to maintain the Jewish cemetery in the city but never paid the $25,000 to the community which was his share in the maintenance.
Krinsky styles himself as Lithuania's "Chief Rabbi", though this was not widely accepted. His attempts to become the officially recognised chief rabbi included having Yona Metzger, who has close ties to Chabad, write a letter to the Lithuanian President. He tried appealing to the Lithuanian Ministry of Justice, this also failed. On February 29, 2004, he held a meeting of 30 of his followers within the community and declared that they were the religious Jewish community of Lithuania. These people proclaimed him chief rabbi and documentation of the meeting was sent to the Ministry of Justice, but this failed to sway the government who maintained that choosing leaders was the prerogative of a religious community as a whole. In response 400 Jewish Lithuanians signed a document condemning Krinsky.
When the community appointed a Chief Rabbi, Chaim Burstein, in early 2004, Krinsky and his followers began a campaign against him. In May 2004 some of Krinsky's followers attacked Burstein on the podium during prayers, and the police were called to break up what became a brawl. Burstein retreated to his home with some supporters to continue prayers but Chabad activists broke in and continued assaulting the worshippers.
The synagogue closed down and was reopened a few weeks later with security at the door to prevent the ingress of Krinsky and his friends. Krinsky attempted to enter and a brawl ensued. Krinsky told the press that the security made him "feel like I went through a Nazi selection." The synagogue was again closed for the duration of the summer, Krinsky and his Chabad followers maintained an angry vigil at the scene that was covered regularly by the local media.
In June 2007 Krinsky was facing eviction from his premises for non-payment of rent, and was given an ultimatum by the community to "publicly acknowledge the community's ownership of the synagogue and its choice of chief rabbi, cease referring to himself as "chief rabbi", and submit to "a sound, open and transparent financial management".
Russia
A bitter rivalry has been ongoing in Russia for the past 10 years between Berel Lazar, chief rabbi for the Chabad-Lubavitch dominated Federation of Jewish Communities, and Yevgeny Satanovsky, president of the pluralist Russian Jewish Congress, over who represents the Jews of Russia on an official basis. The Kremlin officially recognized Lazar as the religious leader of the Russian Jewish community, pushing aside the congress's Rabbi Adolf Shayevich, who until then had occupied the post.
Since the installation of Rabbi Berel Lazar as the Chief Rabbi there have been a number of controversies associated with Chabad influence with premier Vladimir Putin, and their funding from Russian oligarchs such as Lev Leviev and Roman Abramovich. Lazar is known for his purported close ties to Putin's Kremlin.
Putin became close to the Chabad movement, since it is the largest Jewish organization in the FSU representing the majority of communities after a number of non-Chabad Jewish oligarchs and Rabbis including Vladimir Gusinsky (the founder of the non-Chabad Russian Jewish Congress) backed other candidates for president. Lev Leviev, a chabad oligarch supported Putin, and the close relationship between them led to him supporting the Chabad federation nomination of Lazar as Chief Rabbi of Russia, an appointment that Putin immediately recognized despite it not having been made by the established Jewish organisation. Lazar was referred to by some as Putin's "Court Jew".
Lazar responded to those allegations by saying: "I do not know what a court Jew is. There are some people whose only purpose is to speak in condemnation of the government. I try to be objective. The situation in Russia has improved under Putin. People get pensions. The standard of living is rising. There are also negative phenomena, which deserve to be criticized. There is corruption at all levels, though that has been characteristic of Russia in the past 80 years. The reform is in bad shape and there are also many other ills."
Rabbi Adolf Shayevich, who had been Chief Rabbi of Russia until 1998, argues that the Lazar is merely the appointee of Chabad and that he remains Chief Rabbi. What happened, he explains, "has nothing to do with religion and everything to do with politics and business. The president invites him to receptions and does not invite me. I am not offended."
Rabbi Pinchas Goldschmidt was expelled from Russia by order of the government, after having lived in Russia for fifteen years. According to rival oligarch Vladimir Slutsker, Goldschmidt told friends it was Slusker who had him expelled over his opposition to Chabad. Lazer made no protest at the expulsion of his rival, and within days was appointed to Putin's Public Chamber, a controversial body that human rights groups have criticised as a window dressing exercise, packed with Putin acolytes to "legitimize the government's increasingly authoritarian policies."
According to an editorial in the Jerusalem Post the reason why Lazar has not protested Putin's arrests of Jewish Oligarchs and Goldschmidt's deportation is that "Russia's own chief rabbi, Chabad emissary Berel Lazar, is essentially a Kremlin appointee who has been made to neutralize the more outspoken and politically active leaders of rival Jewish organizations." In 2003 while many around the world criticised the arrest of Mikhail Khodorkovsky, Lazar praised the action saying that "The future of the country shouldn't be in the hands of one man who has money."
Rival RJC chair head Yevgeny Satanovsky said that Lazar's endorsement of the actions was intended to develop a role as the special Jew for Putin in order to strengthen the position of the Chabad-Lubavitch movement, which he said was built around the worship of Schneerson. Lazar responded that "it's no secret that I have a very good relationship with the president."
Darkei Shalom synagogue
The Darkei Shalom synagogue is a major synagogue in northern Moscow. It was affiliated with Chamah, a religious and social welfare movement on behalf of former Soviet Jews with offices in New York and Israel, as well as Moscow. The spiritual leader of Darkei Shalom, Rabbi David Karpov, is a devotee of the late Lubavitcher rebbe, yet over the years he has distanced himself from FEOR, the Chabad rabbinical grouping in Russia that appointed and is headed by Lazar. Kaprov was telephoned by Lazar telling him that the synagogue was being gifted to the Chabad movement by its owners and that he would have to leave the synagogue, and resign his post to make way for the a new Chabad emissary. Lazar suggested that if he fell into line with FEOR he may be allowed to stay. At the same time Kaprov received court orders over various technical and administrative issues, which Kaprov argued were due to Lazar pressuring Kaprov.
In an open letter to Lazar, Rabbi Adolph Shayevich and 16 other rabbis wrote: "We would like to express our deep disappointment and discontent with the recent attempt of FEOR to forcefully capture the Darkei Shalom Congregation, one of the most successful and respected Jewish congregations of Russia. This kind of attitude demonstrated by Rabbi Berel Lazar contradicts the spirit of Torah and is apparently based on typical methods deployed by Russian criminals."
Shayevich added in a statement to the press that "they already have too much money and power, and are using it to destroy all Jewish organizations which resist Chabad's total domination of Russian Jewish life."
Ukraine
Chabad maintain a Chief Rabbi in the Ukraine in opposition to non-Chabad Chief Rabbi Yaakov Bleich. A group of prominent secular Jews orchestrated the appointment of Rabbi Moshe Reuven Azman, a Chabad messianist to rival Bleich and another Chabad rabbi, Azriel Haikin who had been appointed by Chabad in 2002. His election as Chief Rabbi by a group formed by some wealthy Jewish businessmen in October 2005, caused considerable controversy in the Ukrainian Jewish community. Azman's election was endorsed by a group of secular Jewish leaders attending a Kiev Jewish conference, but not by any rabbinical authorities. A group of rabbis from the non-Chabad Russian Jewish Congress attacked the appointment describing it as "illegitimate" and "insulting to the feelings of every believer". 150 secular Jewish leaders from 100 Ukrainian cities and towns later protested the vote as well.
According to the Baltimore Jewish Times, more than 30 Chabad rabbis affiliated with the federation issued a statement September 15, 2005, saying that the election of another Chabad rabbi, Moshe Reuven Azman of Kiev, to serve as Ukraine's chief rabbi was "illegitimate" and "insulting to the feelings of every believer. A chief Rabbi can be elected only by rabbis working in Jewish communities of that country," and argued that the election was invalid.
United Kingdom
Gaon Club
The financial troubles at a central London club aimed at attracting professionals, consumed a third of Chabad's total UK budget. Allegations of financial irregularities led to the directors of the Lubavitch Foundation (UK) filing a Beit Din suit against the club's director rabbis Mendy Vogel and Yosef Vogel demanding that they cease and desist from using the Chabad name.
Rabbi Shlomo Levin, director of Lubavitch UK said the Lubavitch Foundation had been "unable to meet its monthly commitments, amassing large debts in unpaid teachers salaries, bank loans and unpaid PAYE." He complained that the Club was responsible for swallowing a large chunk of the movement's budget. The Gaon club was opened by Chief Rabbi Jonathan Sacks in 2006 and was located in rent-free premises in the West End of London.
The club was closed and the Beit Din ruled that the Vogel brothers must not use the Chabad, Lubavitch or Gaon Club names for at least 6 months and that they should return any Chabad property that they had in their possession. Rabbi Faivish Vogel the father of the two men, who was the chief fundraiser of the "Lubavitch Foundation (UK)" which brought the suit, resigned following the ruling.
It emerged that the foundation is now £1.5 million ($3 million) in debt to banks and other individuals. The Vogel brothers expressed their intent to continue their activities despite the ruling: "We are not going anywhere. Our dedication to Anglo-Jewry, and particularly its young people, was not just a job. It was our life, as taught to us by our father who was inspired by the Lubavitcher Rebbe."
Rabbinical Center of Europe
Chabad established a rival rabbinical grouping, called the "Rabbinical Center of Europe", to the Conference of European Rabbis, the primary Orthodox Jewish rabbinical conference in Europe since the Second World War. The body is headed by Moshe Garelick, a Chabad Rabbi from Milan, Italy. The executive director of the "Conference", Aba Dunner complained that the "center" was misrepresenting itself, deliberately confusing people and duplicating their work.
Attacked their action as counter-productive he said: "What are non-Jewish government officials to think when one group has been dealing with them on the issue for years and then suddenly another group wants to negotiate with them on the same agenda? We believe in the old shtadlonus (intercession, lobbying) methods rather than in conferences with low-level diplomats which may provide headlines but accomplish nothing."
While the organisation was set up as a Chabad group, they removed all references to Chabad after a few months, the Chabad Headquarters in New York still listed it as a Chabad organisation. The sister organisation of the "Center", the "European Jewish Community Center" uses the initials EJCC again similar to the initials of the European Jewish Congress, a major organization with representatives in over 40 states. Cobi Benatoff, president of the European Jewish Congress said "We will certainly be confronting Chabad about this issue, this way of misleading people is not the Jewish way."
Canada
Montreal Mikva dispute
In 1982 a new mikva was completed in Montreal intended for use by women and for conversions from Reform, Conservative and Orthodox Jews. The mikva was paid for by all quarters of the Jewish community. Rabbi Itche Meir Gurary, a local Chabad rabbi became director of the mikva. The orthodox community used other, exclusively orthodox mikvas to perform conversions, but pluralist stream were only able to use the community mikva. In March 2007 Gurary announced that the mikva would no longer be open for conversions. Reform and conservative Jews complained that this was merely a pretext to keep Conservative and Reform converts out.
Conservative Rabbi Lionel Moses argued: "This is a Chabad-based cabal, this is a community mikva built with community money... this co-operation still exists between modern Orthodox and non-Orthodox rabbis, and they have gone to bat for us. This is clearly a move by Chabad to interfere with community harmony."
Gurary responded that the non-Orthodox had "overstayed their welcome. If I let them in, I would have to compromise on cleanliness." Adding that non-Orthodox congregations should construct their own Mikvas.
---
Contest: A $100,000 US Dollar prize will be paid to anyone who can find even one respectable Israeli Rabbi who says that Chabad is Jewish.
You will never find any such Rabbi, but try to find it anyway as an educational exercise if you still think that Chabad is Jewish.
!!! CHABAD IS BAD FOR THE JEWS !!!
!!! JUST SAY NO TO CHABAD !!!
---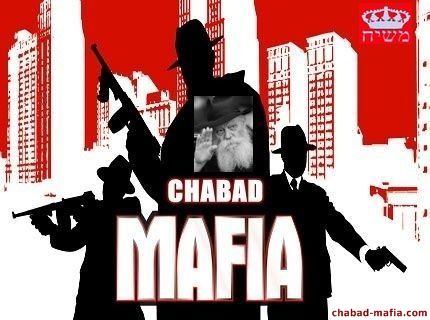 Disclaimer: Please conduct your own investigation about the issues mentioned in this website. This website is only a brief summary of the problems with Chabad. For more information, please talk to your local community Rabbi. Also, if you really care about being Jewish, come live in Israel and study Judaism.
---
Copyright Notice: According to Jewish Law, it is a Mitzva, a religious obligation, to provide this information to every Jew in the world, in order to protect Jewish children from Chabad, and to save Jewish lives and Jewish souls from being destroyed by Chabad. Therefore, permission is granted to copy and reproduce all of the information found on this website in any form and publication, including any website or blog, and to translate it to any language. The only requirement is that you mention that the information was obtained from this website, and in the case of internet pages, please add a link back to this website.
---
Comments, feedback, and additional information about the issues presented in this website can be posted on
our facebook page
.
Is the Chabad ideology Jewish? Join our facebook group to discuss all the problems created by Chabad against the Jewish People.
Find us on Facebook ~ Twitter ~ YouTube ~ Google Plus
---
© Yehudim Neged Chabad (Jews Against Chabad)
---